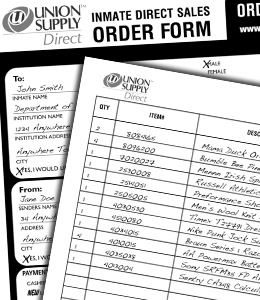 We offer a one stop shop where you can purchase your packages for your loved ones.
Q: How can I place an order?
A: There are four convenient ways to order:
Order online at www.unionsupplydirect.com
Order your package by phone toll free at (866)404-8989
Fax us your order form toll free at (888)857-6219
Mail your order to us at:

Union Supply Direct
P.O. Box 619059
Dallas, TX 75261-9059
Q: What payment methods do you accept?
A: Union Supply Direct accepts the following forms of payment: MasterCard, Visa, Discover, money order, institution check, personal check or cash (for cash payments see details in next question below). Full payment must be made prior to an order being processed. We accept Credit/Debit cards and Prepaid cards with Visa/MasterCard logos. There will be a hold on your credit card/debit card for the amount of the order at the time the order is placed. The hold on your card will be removed and your card will be charged at the time the package ships. For prepaid card payments, funds are deducted from your card and placed on hold at the time the order is placed. A positive balance must be kept in the account until the package ships at which time your card will be charged.
Q: How can I pay by cash?

A: For web orders select payment option "Cash Payment at ACE Cash Express" when you check out. Click the "Store Locator" link to find the ACE Cash Express location closest to you. Print your order summary page to bring with you when you make your payment.
For phone orders tell the Union Supply customer representative that you would like to make an ACE Cash Express payment. The representative will provide you with the information you need to make your ACE cash payment and the location closest to you. The online store locator is also located at www.acecashexpress.com/locations.
Go to the ACE Cash Express store and inform the store clerk that you are making a Union Supply payment, and provide the Order Reference (Sales Order) Number, Exact Dollar Amount of the Order, Inmate ID Number and Inmate's Last Name. Make a payment exactly the dollar amount due for the order, plus a $3.00 ACE Cash Express service fee per payment.
Allow 48 hours for your payment to be applied, and retain the receipt from ACE Cash Express for record of your transaction. Your order will be cancelled if full payment is not received within 10 business days. All refunds will be processed by Union Supply Direct and mailed to the customer's address on file for the order. For inquiries regarding your cash payment, call Union Supply Direct at (855) 247-4945  M-F 5am – 8pm & Sat 7am – 1pm (PST).
Q: How do I know that items are acceptable at the facility?
A: We have taken the guess work out of shopping for you. The only items presented on the shopping pages are already approved by the state and/or facility so you can shop with the assurance that everything we make available has been pre-approved. Keep in mind that there are quantity limits on some items. Item restrictions change daily and we do our best to keep these as current as possible.
Q: Do you make substitutions?
A: Due to state regulations, we will only make substitutions if you approve us to do so. If you approve substitutions, we will substitute with an item of equal or greater value. If placing an order from the web, during registration, if you would like for us to substitute items, please check the box which states you agree to have substitute items sent. Please check the YES box on your order form if you would like for us to substitute items ordered that are out of stock.
Q: Why are some of my favorite brands not available?
A: We carry a broad selection of products that meet the stringent guidelines of the correctional facilities. Many of your favorite brands may not be considered appropriate for use inside a correctional facility or may not meet the strict packaging requirements. Please let us know however if you have an item that you would like us to carry and we will do our best to accommodate your request.