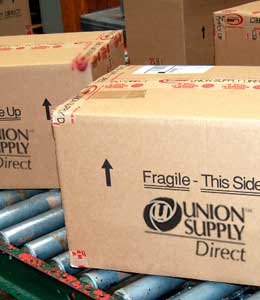 We offer same day shipping of all products except music.
Shipment Confirmation
If you have provided an e-mail address, you will be notified when we have received your order and when the order is shipped.
Delivery Confirmation
You can find this information by two ways: you can e-mail us at Customer Service and we will reply to your email within 24 hours or you can call our toll free customer service number (866)404-8989 and speak to a customer service representative who will provide you with up to date information on your package.
Broken or Defective Merchandise
If there is a problem with your order please contact our customer service department so that it can be resolved. If something is missing, we will simply require confirmation from the Package Room Department to confirm that the order was not shipped complete.
Package Refused at Facility
Should the package(s) be refused because of our error, we will correct the problem and reship the package to the inmate at no charge to you. Should the package be refused for some other reason, we will provide a full refund to the person purchasing the order. Shipping and handling is not refundable.

Returns
Used, abused or damaged items cannot be returned, exchanged or refunded. Please check all of your items upon receipt. If any of these items are found to be defective or damaged in shipping, please notify your Property Room officer to arrange a return or exchange. All products must come back to us directly from the facility. For security purposes, we cannot accept any product that has left the facility. You must return these goods within 30 days. All original boxes and packing material are required on any returned goods. These goods will be repaired or replaced at no cost to you. All merchandise that was ordered in error, for any reason, can be exchanged for $5.00. All exchanges must be done within 30 days of purchase. Union Supply Direct is not responsible for refused items. Please ensure that the items you order are approved at your facility.
Television Returns
RCA Televisions: RCA 13" Clear Digital TV warranty is 90 day part and labor and one year on the picture tube. Defective televisions returned to Union Supply Direct within 90 days of purchase will be replaced by Union Supply Direct. Defective televisions returned after 90 days, but within the 12 month period will be replaced for a fee of $70.00. All televisions returned must include a copy of the original invoice and a letter explaining the claim for defect. Please include a check made payable to Union Supply Direct for $70.00 (if within the 3-12 month period).
Clear Tunes Televisions: In order to have your merchandise repaired or replaced by warranty, you must send the unit prepaid to 2914 Leonis Blvd., Vernon, CA 90220 in the original packaging or reasonable substitute to prevent damage and include: (1) proof of purchase, which must have a purchase date that falls in the warranty period specified in the Warranty card, (2) all of the accessories that came with the product package must be sent along with the main unit, and (3) a cashier's check or money order payable to Clear Inventions, Inc., in the amount of $50.00 for return shipping and handling. You must also include your full name and shipping address for our reference. If returned merchandise is found to have no problem and/or does not include requirements 1, 2, and 3 indicated above, it will be returned back to the inmate.